The demand for hyper-automation and IT modernization has grown, but enterprises have been struggling to align with these trends because of the current limited availability of developer talent. Many IT projects get relegated to the "pending" file due to a shortage of resources with specialized technical skills. As a result, operational inefficiencies continue to exist and are time-to-market. With this, a crucial factor for businesses to remain competitive is compromised. To address these challenges, low-code, and no-code software development solutions have emerged as viable and convenient alternatives to the traditional development process.
In the post-covid months, low-code/no-code tools saw steady growth due to their effectiveness in addressing some of tech's most complicated challenges—primarily the critical need to digitize workflows, enhance customer and employee experiences and boost the efficiency of commercial and operational teams.
Low-code/no-code platforms have evolved from just facilitating function-specific tools to making it possible for a broader range of business employees to truly own their automation and build new software applications with no coding while increasing organizational capacity.
An increasing number of businesses and IT leaders are leveraging the possibilities of low-code/no-code tools as organizations work to turn more of their employees into citizen developers. As the movement continues and adoption increases across key industries from financial services to manufacturing.
What makes them stand out from the traditional methods?
Traditional app development has a multitude of complex and time-consuming specific steps that typically require multiple professional individuals to complete the various stages. It is difficult to fully describe the traditional app development process in a few words, but the main phases can be summarized as the following: 
Planning 

Design 

Development 

Testing 

Deployment 

Maintenance 
A large team of specialists is needed to complete the entire process in a timely manner. The app's components are not always reusable, which increases the project's life cycle time. Input from the end-users of the application is minimal, which can lead to a less-than-ideal UI, more testing after requests from users, and more patching/fixing in the maintenance stage.
On the other hand, development using low-code and no-code platforms is far more flexible and takes considerably less time. The platforms can still be used to develop complex software applications by IT departments, yet they require fewer resources in order to do so. Drag and drop features allow citizen developers to design their solutions intuitively.
Useful tools and the auto-compiling and generation of code make app development, testing, and deployment both faster and easier when using low-code/no-code platforms. The user-friendly UI and components make app development possible without large teams and make errors more easily fixed.
Anyone can be a developer now. But how?
A huge advantage of low-code/no-code application development lies in the fact that many of the tedious tasks throughout the process become automated. This saves an extensive amount of money for companies, as their developers can create large, complex applications much faster. It also saves IT departments much-needed time, as fewer people are needed to create a single app throughout each stage, giving them more opportunity for creation within limited timeframes.
this means that practically anyone can develop their own solutions using the platforms, as little to no professional coding skills are required to create an app. 
Yes. You read it right.
For businesses, this means that their marketing managers, sales reps, HR managers, and any employee can develop their own applications quickly and easily, relieving busy IT departments of additional development responsibilities and promoting faster app development throughout the company. The non-professionals who use low-code/no-code platforms to develop applications are referred to as citizen developers.
What makes them a hot topic in business?
The main advantages that low-code and no-code platforms provide businesses can be described with a few keywords: simplicity, speed, and agility. 
Low-code/no-code app development is a simpler and shorter process compared to traditional methods in almost every way. Its simplicity is what allows any employee within a company to begin creating their own solutions as well as reducing or often eliminating the amount of skilled personnel required throughout development. Despite their simplification of the development process, the apps created on low-code/no-code platforms can be as complex as required for the project and can be customized according to the user and business's needs. These platforms also make the app development process much faster. Thanks to their simplicity, low-code, and no-code application development eliminates several lengthy steps within each phase of development. Since the platform automatically generates and deploys the code needed for the solution, the risk of error when coding an application is greatly reduced, which can take considerable time to address via traditional methods.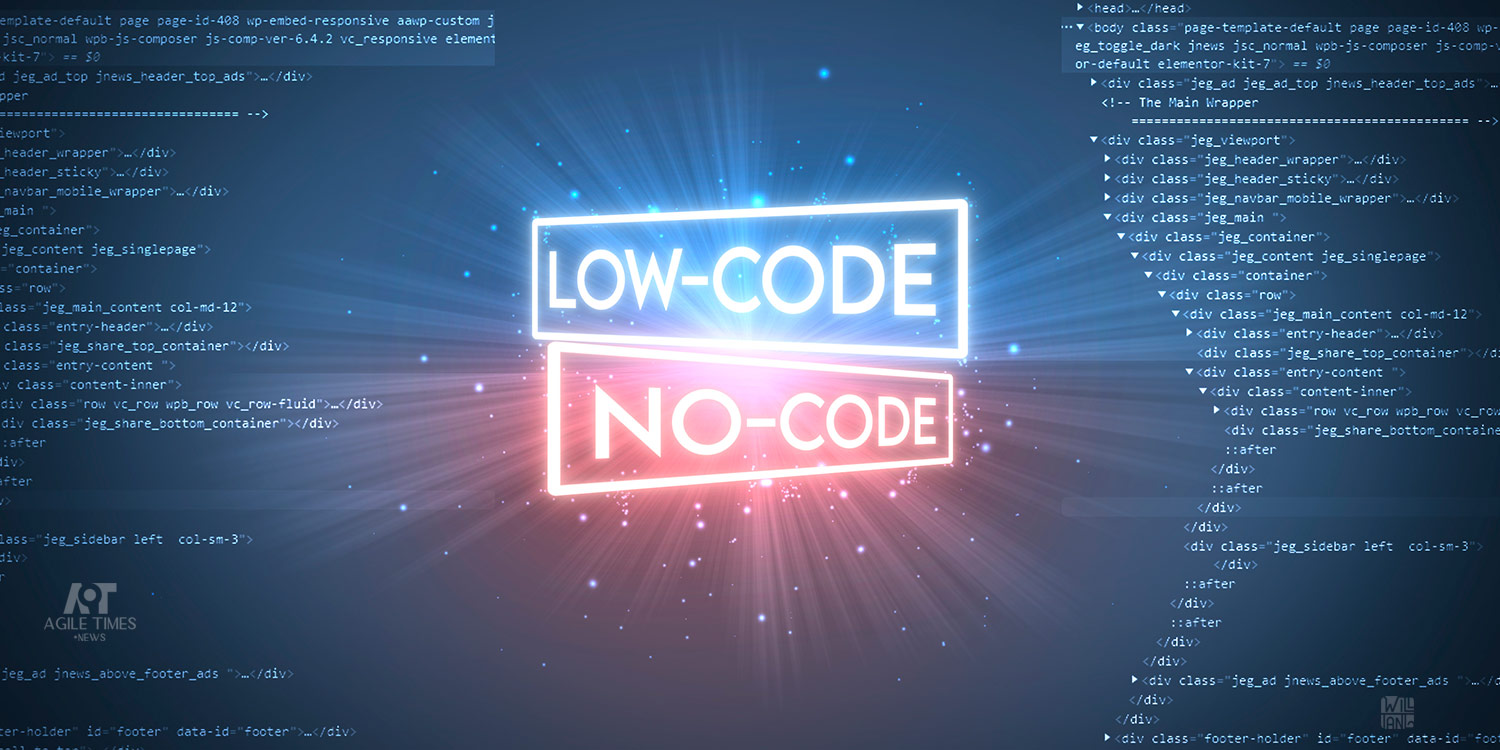 Low-code and no-code application development are also agile. Traditional app development is very inflexible. Changes are difficult to make after the planning stage, and if there are a drastic amount of changes to be made, the project essentially goes back to the planning stage and must be started over again.
Have a project in mind that includes complex tech stacks? We can be your best partner. Connect with us here to give wings to your dream.