You've probably come across AMP, if you've ever searched for content and interacted with the results through a mobile device.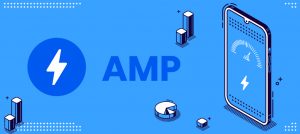 Accelerated Mobile Pages, or AMP, is a Google-backed Open Source project that aims to unify the display of web pages on mobile devices and make websites load faster on mobile devices. On mobile phones, screen or display size is limited. There's only roughly a five-inch screen to fit text, photos, videos, titles, and so on.  Google is dedicated to giving its search engine users the greatest viewing experience possible.
This blog will take you through all aspects of AMP, including the technology employed, as well as its pros and drawbacks. 
How Does AMP Work?
AMPs are stripped-down HTML versions of existing webpage content that load faster than conventional HTML5 documents. By including the "rel=amphtml" tag in their HTML, websites can provide AMP pages. A three-step AMP configuration needs to be done in order to make AMP work.
AMP HTML – This is a stripped-down version of conventional HTML code with some unique tags and constraints to ensure quick performance.
AMP JS – This  is a JavaScript package that manages resource handling and asynchronous loading to ensure that AMP pages render quickly.
AMP Cache – A tool for serving AMP HTML pages that have been cached. It loads AMP sites, caches them, and optimises their speed automatically.
The Advantages of AMP for Mobile Web Users
For mobile web users, AMP is a compelling notion that offers benefits when browsing on their mobile devices.
Users will be able to access pages almost instantly. This will make Google users pleased since they will be able to explore the search results pages and get the information they need right away after clicking on a link.
Reduce mobile data usage – not only will pages load faster for consumers, but 3G and 4G connections will use less mobile data.
The Advantages of AMP for Websites
AMP provides a lot of advantages to both websites as well.
Increased user engagement – it should come as no surprise that users prefer content that loads quickly. Users may give up and go elsewhere if a website takes too long to load. As a result, the rapid load speed of an AMP page can assist lower bounce rate, resulting in more users engaging with content and potentially more website conversions.
Increased search engine visibility — AMP-enabled news stories are eligible to feature in Google's "Top Stories" section. AMP listings will also appear with the AMP icon within the regular listings. This increases the visibility of listings and can result in greater click-through rates from users looking for fast-loading pages.
Higher ranks – Google's Performance Update, which uses page speed as a mobile ranking criterion, was released in July 2018. Using fast AMP sites can now lead to more prominence in search results pages, as a faster loading page can help enhance your mobile search engine rating.
Should you use AMP for your websites?
Any website, regardless of sector, can use AMP. If you want to make your website's pages load faster, AMP might be the way to go.
Sites that publish news items or blog posts that can appear in Google's AMP carousel are the best candidates for AMP. Because articles don't rely heavily on JavaScript, they won't be restricted by AMP.
In addition to news sites, the usage of AMP on product pages has been shown to boost conversions on ecommerce sites.
Limitations of AMP
It's important to realise that there are some limitations in using AMP.
Due to the limitations of AMP, a page with a lot of JavaScript, for example, may not work.
The ability to track data from AMP pages using Analytics, Ads, or even DoubleClick is still limited, however this is changing.
Most importantly, deploying AMP involves compromising a lot of your website's UX components.  AMP HTML places importance on efficiency over, say, creativity.
Conclusion
The implementation of AMP can reduce the amount of time it takes for your mobile web pages to load, increase user engagement, and lead to more sales and conversions. AMP is a feasible alternative for any website, despite some drawbacks. The benefits to consumers and site owners are evident, making it a viable option for any website.