VR technology has been sweeping the globe over the last few years, and this phenomenon is only growing in popularity. The world we live in is changing quickly, and so are the ways that various industries are run. Though VR has completely changed the entertainment scene, it is no longer only applicable to that industry. Various businesses are creating innovative procedures and techniques to employ the newest technology to boost their procedures. Countless aspects of VR are already being used in the healthcare sector, and there's been numerous discourses and debates about their utilization. Implementations such as robotic surgical care, medical instruments, etc. are gradually growing in popularity and have become more likely to be implemented by numerous healthcare providers and accepted by the public.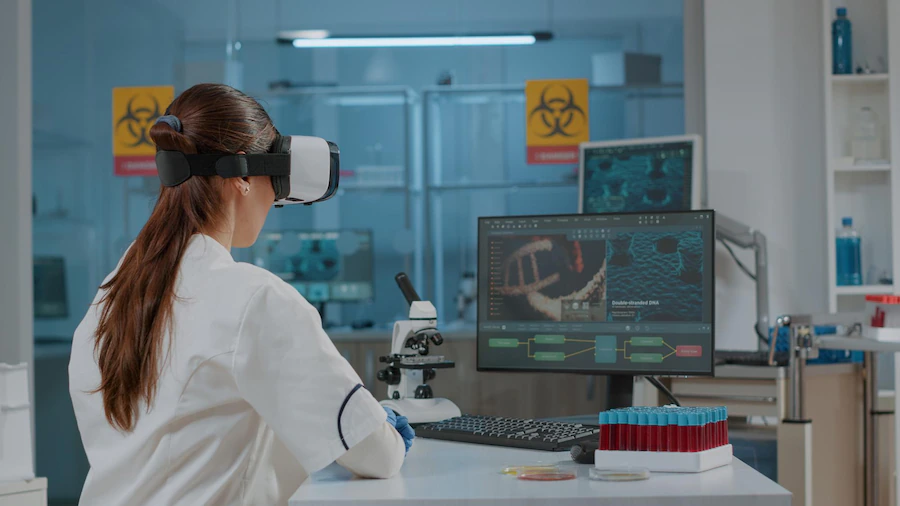 In terms of enhancing and expanding their potential, digital transformation is gradually influencing all facets of life. IT services can be utilized to streamline time-consuming operations, assisting users in identifying gaps in their present workflow and discovering fresh, quicker, and much more creative approaches to problems.
Due to the complex nature and handling of sensitive data, the medical industry is one of those that have been hesitant to adopt IT solutions, but it may be one of those that stand to gain far more from creative aspects of technology. Incorporating VR – based technologies for diagnosis, coaching, surgeries, therapies, caregiving, and medical management is a perfect illustration of how contemporary medical practices may employ technological breakthroughs to develop.
Key Applications of Virtual Reality in Healthcare
One of the industries using virtual reality the most is medicine, which includes, among other things, surgical robots, PTSD therapy, surgery simulations, and coaching programs. VR is now being used in operations by numerous medical institutions all around the world, and these enterprises have begun to see its advantages. The use of VR in numerous industries has increased with the introduction of the Oculus Rift and HTC Vive. Here is a list of some of the most significant uses of virtual reality in medicine:
Medical training and education have long made use of VR simulation technologies. To create the most outstanding education programmes for doctors and pupils, major VR-based companies are creating products that integrate 360º video and interactive virtual content. This technology enables them to execute intricate, life-saving techniques in a risk-free setting, develop their skills, and receive usability feedback while doing so. Vr is now gaining ground in the nursing field.
Virtual Reality in Diagnostics
VR is often a potent diagnostics tool that enables scientists and healthcare professionals to make precise diagnoses. This procedure is used in conjunction with others, such as MRI/CT scanning, and because no intrusive procedures are required, the patient has a distress-free experience.
Medical professionals have long employed cognitive diversion techniques to manage various sorts of pain. By offering a variety of engaging activities, VR gives traditional tactics of distractions a new face. Such games have a ton of additional content and are playable in a virtual setting. While some applications offer therapeutic virtual reality for traumatic injuries, there are other remarkably advanced techniques that make limb pain treatment effective. VR also offers a drug-free pain treatment alternative that can be employed in therapeutic care settings or separately.
Physical Fitness and Therapy
   The way activities are performed now is drastically changing in the fitness sector. Numerous startups in the sector are redefining exercise by fusing VR with aerobic programs. Moving on, VR plays a significant role in physical rehabilitation, as individuals are exposed to an exercise plan that uses VR rather than prescription medications or invasive procedures.
Virtual Reality in Surgery
 Vr in surgical operations has been around for quite a while and has become extremely popular among medical professionals. A robotic surgical tool is used for the procedure, while the human surgeon controls the automated tool. By using this approach, the time and danger of surgical complications are reduced. In telesurgery, when the surgeon operates on the patient from a different location, virtual reality is important. The force feedback feature aids the surgeon in determining how much pressure to apply during a sensitive process, such as dental, etc.
Virtual reality (VR) is particularly beneficial for various human simulator approaches and allows healthcare practitioners like medics, nurses, etc There are far more uses for VR in healthcare besides those already stated, many of which are given here:
Virtual reality in Dentistry
VR treatment for PTSD
Virtual reality in Nursing
Autism treatment using VR
Surgery simulation using VR
VR for the disabled
VR in phobia treatment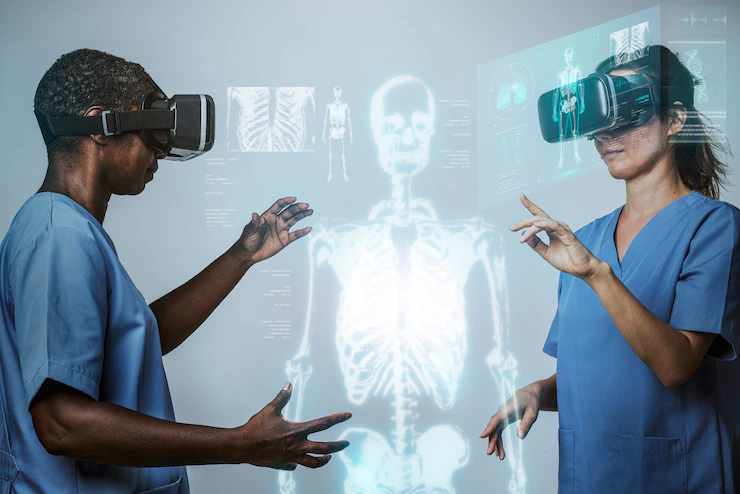 The Future of VR in Healthcare
The popularity of virtual reality is increasing, and this trend is likely to continue soon. The VR business is still in its early phases, and future growth is expected to be positive.
VR is being used more and more in the healthcare industry for teaching, diagnosis, and other purposes. With more advanced technologies and quicker Internet connections, this trend should only continue to improve. By the year 2020, the VR market is projected to reach a staggering $30 billion, with over 135 million Virtual reality headsets expected to be in daily use by the year 2025.If you have any projects regarding the above, contact us.