The journey of 9 years is coming to an end! Just like Orkut, Google has decided to shut down Hangouts and migrate the entire messaging and communication system to 'Google Chat'. Google is sending in-app alerts to Hangouts users asking them to install and switch to the Chat app. By November 2022, Hangouts will bid farewell to the Playstore.

Can Google Chat replace Hangouts completely?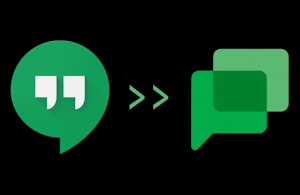 Hangouts is a cross-platform instant messaging service that was initially an extended feature of Google+. It then became a standalone product in 2013 and integrated many other features, like Google Talk and Google Voice.
Shutting down Hangouts was definitely not a quick decision. In a blog post released in October of last year, Google outlined plans to phase out its Hangouts messaging service. The company plans to upgrade Google Chat within the very near future, and they removed voice and Fi features from Hangouts in order to make way for that. Hangouts was a free and secure way to communicate over messages and calls. All the calls and conversations are encrypted so that nobody else can see or hear your conversations, some of the reasons that made Hangouts popular. 
Google Chat, formerly known as Google Hangouts Chat, is a relatively new team chat app from Google that is similar to apps like Slack and Microsoft Teams. This service works with all Google Workspace accounts. Chat is a great way for teams to stay in touch with each other, to make groups that are focused on the people you invite to chat, etc. It also supports individuals for one-to-one chats inside your company, and these conversations work a lot like the official version of Hangouts.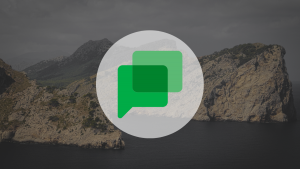 As we all were familiar, Chats was not a free service. So the users were initially in doubt when they were asked to switch to 'Chat'. But Google has ended that confusion as well by announcing that Chat will be available as a free service both in the integrated experience in Gmail and in the standalone app. It will also include all of the popular features, like direct and group messaging, with additions like 'Send to inbox', Faster search, etc. Chat also has more features, like 
Mentioning the users

PWA desktop app

Provision to edit or delete sent messages

Dark mode

Emoji and GIF reactions to messages

Edit Docs, Slides, or Sheets with side-by-side editing. 

Spaces – a dedicated place for topic-based collaboration.
Google has also mentioned that some conversations or parts of conversations that were once in Hangouts won't automatically migrate to Chat. With this change, users will no longer be able to use the Hangouts mobile app and will be able to upgrade to Chat in Gmail or the Chat app. And the mobile users will see a screen asking them to upgrade from Hangouts to Chat in Gmail or the Chat app. So how can users download their data from Hangouts? 
You can download your Google Hangouts data by following these steps:
Sign into Google Takeout using your Google Account.

Choose Hangouts from the available applications and deselect the rest.

Click Next Step to proceed.

Choose how often the backup should be downloaded in the Delivery method. It is recommended that you download Hangouts as a one-time download before the upgrade to Google Chat.

Select the file type you want.

Click on Export.

A message tells you that Google is creating a copy of the files from Hangouts. You will receive an email when the takeout process is complete. Download the file to preserve your Hangouts data.



Well, to conclude, Adios Hangouts, you will be missed!
If you would like to know more, click here.